Hey there! Some links on this page are affiliate links which means that, if you choose to make a purchase, I may earn a small commission at no extra cost to you. I greatly appreciate your support!
First of all, congratulations on getting into medical school. Rest assured you're going to have a good time and learn so much more about yourself, life, and the future in general. All the best!
In my previous post on what to wear in medical school, I outlined a few things you'll need in terms of clothing and accessories in medical school
This post is all about the essentials. What medical students can't live without while in medical school. These are absolutely necessary for lectures, ward rounds, and rotations in general.
Here is the list of items
What is a medical student or doctor without a stethoscope? There are numerous brands of the stethoscope on the market but the most reliable and undeniably beneficial as a fresher is this Littmann Classic III stethoscope. Although a little bit pricy than the others, it enables you here all sounds efficiently. To avoid unforeseen situations, misplacing it, etc, you can get an extra one in your wardrobe.
Medical school lectures are mostly in the form of slides and presentations which are handed out to students prior to or after lectures. You'll need a reliable laptop with maximum efficacy to handle all your files, documents, apps, etc.
I've used this Hp notebook for over 3 years now without experiencing any major issues apart from changing the battery and charger. On the costly but equally efficient side is the Macbook air/pro. Learn here how to use the MacBook for taking notes in medical school
Since the laptop/desktop is not a typical portable device for taking notes while on the ward, it would be prudent to get a tablet/iPad/mobile phone. I've had this Samsung tablet in addition to my outdated iPhone 6plus for putting down key points while on the ward.
I find writing on the ward frustrating sometimes because it's not a seated environment to write comfortably on a desk or your lap. With these pocket notebooks, it's a lot easier to work with, handy, and fits well in any small space.
Finding good pens and highlighters is crucial to making good comprehensible notes. My handwriting is challenging to read most times, but with a good highlighter as these ones here, I can note all the key points and headlines legibly. I don't go too hard on pens, just one that can write. These BIC pens always show up in my purse though
For my school, the appropriate outfit for the medical ward is a well-ironed white lab coat on formal attire. Other schools require students to wear scrubs throughout. At the end of the day, you'll need a good lab coat for practical and professional purposes. Getting one with a fabric that is sustaining and that can go through laundry without tearing apart is very important. These unisex lab coats from Amazon are highly rated and customizable as well.
As I mentioned early on, scrubs are the attire of choice for some medical schools and therefore a must-have. I love the brightly coloured ones (although not pictured here) to complement my skin and make me stand out. You can have them customized as well
In my what to wear in medical school post, I told y'all how I love my tote bags. Fashionable and efficient as well. A good laptop bag or backpack can go a long way to keep you organized and carry things around easily in medical school (a very difficult thing to accomplish on a daily). In this, you can carry your laptop for later studies in the library or your small corner.
On rotations, you'll need quite a number of tools in examining your patients. It will be very frustrating for you to carry them piece by piece. Eventually, you even leave some of them in the dorm. This carrying case keeps you in check, holding all the necessary tools especially the tiny ones.
Being comfortable in the ward is one hack to working/learning round the clock during your rotations. Say NO to tight-fitting shoes or heels. Grab these crocs or some Nikes and you're good to go. A good pair of sneakers/sandals for the ward must be a priority. Medical school is a real marathon indeed
I was never a fan of planners until medical school. Even now I use digital ones like google planner because of how quick and editable the planner is. I found this beautiful medical school planner on this Etsy store. Planners put you in order and help in getting things done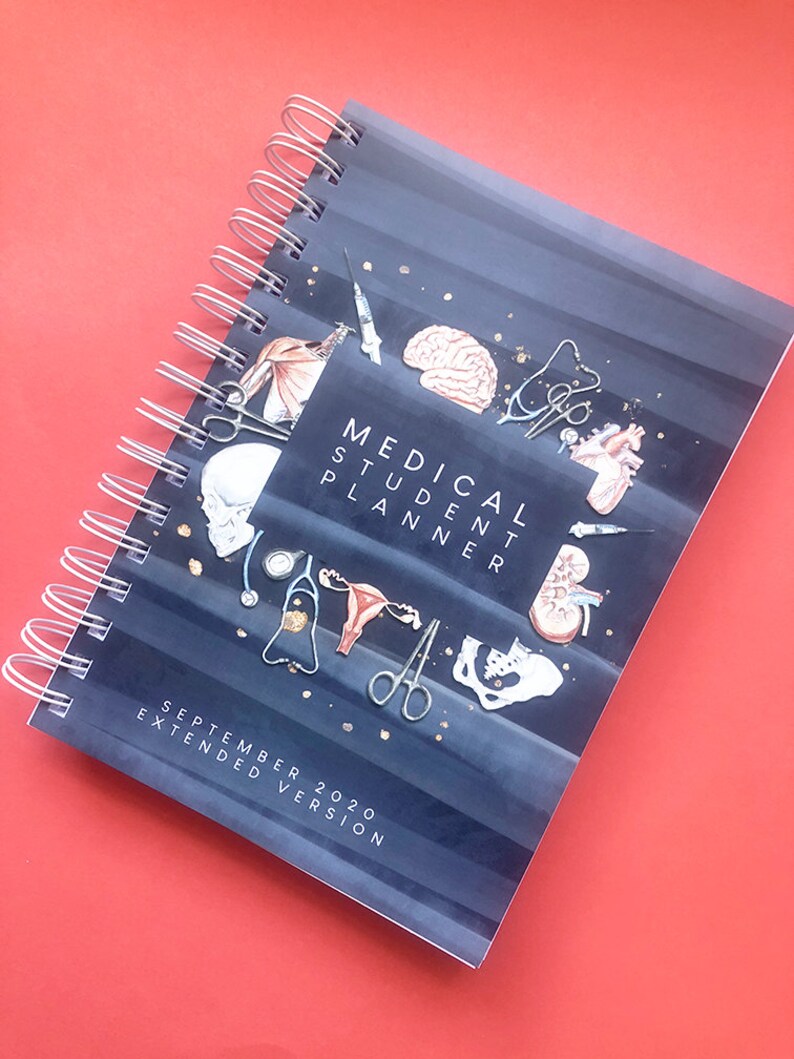 In my part for the world, its called a power bank. Again, for your daily activities on rotations, your battery can quickly run out without even realizing it. It can be very depressing when you're almost done with the day ready to go on to your personal studies, then boom, your phone goes off. You'd have to go back to the ward, charge it, try to study in your room, and eventually fall asleep.
Clipboards are a useful tool in taking good notes while on ward rounds. Previously, I mentioned that taking notes on the ward is a bit difficult because there's not much support like a desk. This clipboard gives you that support you need and helps you clip notes and sheets that'll be of good use on the ward.
Every day can look like a bad day for the medical student. Stress reliefs and survival kits are essential packages you need to grab at the end of the day/week. You could also have a little self-care day to get that energy back.
They say coffee is every med student's favorite. I guess I'm the exception. I doze off even quicker when I take coffee (maybe I don't use the right amount or I take it at the wrong time). For me, green tea works. I call it a diuretic because I use the washroom a lot when I take green tea, making me stay up a little bit more as I move up and down the washrooms, lol. You can give both of them a try and pick whichever one works for you.
I hope you now have a fair idea of the basic things you'll need in medical school. I also pray that you enjoy your time there!
XoXo!